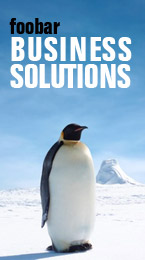 foobar GmbH has been working successfully in the fields of software development and system administration in the Linux/UNIX - and Web - environment since more than nine years.

Our know-how regarding our favourite development platform, Linux, allows us to realise projects from software development at kernel level to complex applications and administration of server systems.
By utilisation of portable tools and languages we are able to develop software for almost all platforms. Our references, we gathered from various projects, show the contentment of our customers.

We look forward to implementing your requirements using our know-how. We are also available for an individual talk. Please contact us.