| | |
| --- | --- |
| | |
| | |
| | |
Keep control over your web projects - with foobarCMS!
Stop kepping your web presence up-to-date in an intricate way! Avoid errors while editing the html source code of your page! Source out the editorial part to your own or external staff without any risk! All this is possible with our proven content management solution foobarCMS.
Features
manage your content independently form your design without html knowledge
easy management for texts and pictures
create users with fine-grained privileges for editorial work
manage the complete menu structure
manage several languages
integrated search functionality
ready-made modules, like Site map or FAQ
Management for Documents and other downloadable content
different test and download modes
Management for different Sites in one Tool
Newsletter module
for on- or offline usage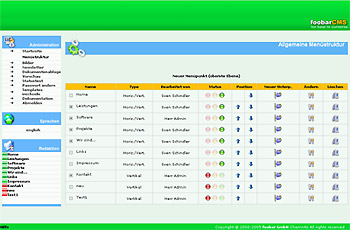 Administration interface of the foobarCMS: Menu management
Our foobarCMS not only addresses the unexperienced user, who wants to manage his content without getting lost in HTML commands, but also versed web designers will appreciate the advantages of it soon.
Move complete menu points including their submenues to an other point of your menu structure, or remove them temporarly or permanently from your page with just a single mouse click. Your page will be structured in single modules. So you are able to change their order, temporarly hide or share them with other users for further editing.
You want to expand your page by a new language? You could use the user management to provide access to a translator, who is limited to edit the pages of the new language. And within this pages the translator's privileges limit his access to the text elements. Afterwards you can review the work of this external staff member and unlock it for the public view of your website with just one click.
These are just a few advantages of our foobarCMS. Become acquaint with a new straightforward management of your web projects!
We will gladly provide you an individual offer!
Copyright © 2000-2009 foobar GmbH Chemnitz | Imprint