Every company has its own workflows and avenues of approach. It is those specific processes that constitute their success. It's often difficult to set up such processes with standard software, but in contrast, individual software provides this flexibility.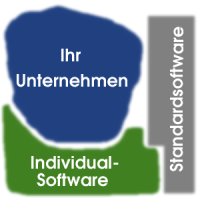 We develop your custom software.
We focus on open source components that we propose based on our long lasting experience and select jointly. These components and the Linux operating system form a stable and cost efficient platform that allows us to provide a fast implementation.
We mainly develop open source software that guarantees full transparency and quality assurance for our customers. Furthermore supplying the source code assures maintenance and serviceability even after the end of the project.In our work with open source software we got experience with many different products. This constantly extended our know-how, that also will be included in your software.
Examples of our work can be found in the
Projects
section.