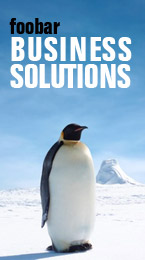 New project with embedded Linux
09.02.2011
This new project includes the development of a integrated speech communication system for ships. We will use our know how of voice over IP protocols combined with the embedded Linux know how in this project.
PCIExpress driver development and optimization
14.05.2010
We continue our work with Dolphin and develop together new drivers and libraries for PCIExpress hardware.
foobar in the field
20.08.2009
Despite of the global economic crisis most members of our team are engaged in customer projects all over Germany. We still work in the fields of telecommunication, especially VoIP, and the banking and stock exchanging sector.
New Embedded Systems project
06.04.2009
In our new project we develop a fault-tolerant antenna control system based on the Amtel AVR32 plattform using Embedded Linux and Qt/Embedded.
2008 - A very good year
20.02.2009
2008 was a very good year for us.
We continued our work in the fields of VoIP and extended our knowledge in working with Asterisk. We were also able to break into the banking and stock exchanging sector, wich is a very interesting field.
foobar works in the banking and stock exchange sector
01.11.2008
Now our know how in developing and customizing OpenSource Software is also on demand in the banking and stock exchange sector.
The requirements for high bandwidth and short latencies are well known from the experiences in our VoIP and Embedded (Dolphin Supersockets) projects. We can bring this experience into the development of a new trading system.
FaxServer for administrative district Uckermark
01.08.2008
Our FaxServer Lars now is responsible for receiving and sending faxes for the district administration of Uckermark.
foobar still engaged in VoIP
11.05.2008
Within the scope of a project, we support a medium sized provider in customising and setting up its VoIP environment (OpenSER, Asterisk) and improve our knowledge in this field.